Headquarters factory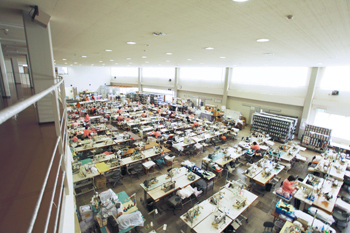 Domestic production base
The history of Atsumi Fashion began in 1982.At present the head office is in Himi City, Toyama Prefecture with a production facility in Noshiro City, Akita Prefecture.We strive to craft products that please our customers and satisfy them in the areas of planning, patterns, materials, and production technology. Day by day, we move forward steadily, taking pride in the sound technology and experience we have cultivated thus far.
Myanmar factory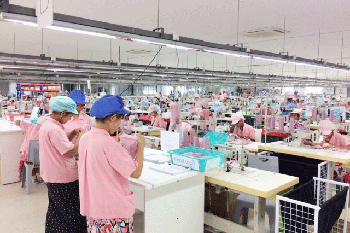 Overseas production line
Presently, the main production areas are China, Myanmar and Malaysia. In 1987, leading others in the industry, we expanded into the Kanton Province and in 1992, we established a joint venture in Dalian. At present, together with numerous collaborating factories, we manufacture around 2.5 million products annually. In 2016, we established a jointly managed factory in the special economic zone of Thilawa in Industraial Zone outside of Yangon in Myanmar.

Sales department
The sales department is the point of contact for clients and will take responsibility from production request to production shipment.
Planning department
The Planning department responds to the needs of the customer in the areas of sesign, planning support, CAD pattern creation, sample production, and so on.
Production department
Domestic and international factories source fabric, lace, supplementary materials and so on, and prepare them for different production facilities.
Cutting department
The cutting department cuts lace, etc. using a bandknife.Fabric is marked using CAD and the cutting is performed with the high productivity and accuracy of CAM.
Sewing department
The sewing department offers products from professionals with experience and know-how using a rich variety of industrial sewing machines.
Inspection department
The Inspection department takes care of quality control for domestic and international products according to the standards of our customers.Detailed checks are performed while comparing the products to the required standards, specifications and measurements.
Shipping department
High quality products made to each customer's specifications are packaged and shipped out.The products are put through a thorough inspection machine to ensure there are no needles or other metals (apart from some particular metals) present before being packaged. After that, the packages are put through and x-ray machine to check for any dangerous materials and once safety has been verified the products are shipped out.
In-house equipment
SEWING MACHINES
One needle lock stitch machines
Two needle lock stitch machines
Zigzag stitch machines
4 point zigzag stitch machines
over-lock sewing machines
inter-lock sewing machines
Scallop sewing machines
Flat double hooking sewing machine
Flat three needle sewing machine
Lock stitching sewing machines
Flat seamer
Bassoon sewing machine
Merrow
Other industrial machines
Stretching machines
Cutting machines
CAD machines
CAM machines
Stain removal spray guns
Conveyer needle detector
Portable needle detector
X-ray foreign matter inspection device